UNO Online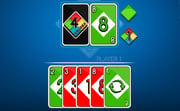 UNO Online - multiplayer card action. This online version of the popular card game UNO ensures that you can now play your favorite card game whenever you want! As you know, the goal is to get rid of your cards before your opponents do.
When you have only one card left, don't forget to hit the UNO button! Uno is a registered trademark by Mattel. Don't forget to buy the physical game if you like this online version!
Different action cards available
UNO Online has a myriad of different action cards available. These action cards make the gameplay fun and add an extra level of strategy. Action cards include:
Draw card - player has to draw additional cards
Skip card - next player skins their turn
Reverse Card - switch the flow of play
Wild Card - counts for any color or number
Use these action cards carefully and play them at the right time to affect the flow of play.
Fun online action against worldwide opponents
The multiplayer action is superb. Players can play games with 2, 3, or 4 other players from around the world. Simply select which game mode you want, and start playing. Players are automatically matched with a random opponent.
The gameplay is simple - match the card by either color or number. The aim is to try and discard all the cards in your hand into the discard pile. If you cannot place a card, you must pick a new card from the draw pile and place it in your hand.
This is one of the most classic games available in the card game genre. The multiplayer aspect provides a whole new world of fun. Users can test their UNO online game skills and see how they fare against fellow gamers from around the world.
Developer
Uno was developed by Merle Robbins and is now owned by Mattel.
Platform
Web browser
Release Date
UNO was conceived in 1971. This online version exists since 2009.
Features
Fun UNO game to pass time or entertain yourself
Play against 2 or more other computer-controlled players
You can play several rounds within the time limit
Tip
Click the volume icon on the bottom right section to enable sound.
Version
You can play the legacy version before this update here.
Game Objectives
UNO is played in three rounds. Try to get rid of all the cards in your hand before your opponents. When it is your turn, try to match the card on the discard pile, either by number, color, or symbol.
Pass Button
If you don't want to play the card picked up using the draw card button, you can press the pass button to end your turn without playing any card.
Draw Card
If you don't have a matching card, you must draw a card from the draw pile. If the card that you picked up can be played, you are free to do so in the same round. Otherwise, it's the next player's turn.
Uno Button
When you only have one card left, you must press the UNO button. Failure to do this results in having to pick up 2 cards from the draw pile.
For the full rules of the game, you can check out
its Wikipedia page
.
Rating
8.8 - 39480 ratings
Tags
Puzzle Games » Card Games » UNO Online
Related Games
UNO Online is an engaging card game. Play it here on CrazyGames , for free. It has received 9,369,725 plays and has received a rating of 8.8 / 10 by 39,427 people. It is made by Mattel. This awesome skill game is built with HTML5 to run fast in all modern browsers. It is playable in full-screen to get a fully immersive experience. If you like UNO Online, make sure to check out our other card games or FreeCell Blue and Spider Solitaire Online.