Five Nights at Freddy's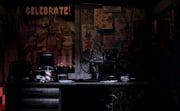 Five Nights at Freddy's, often abbreviated as FNaF, is the first installment of this fun and dark point and click horror title. You work as a security guard and you are working shifts at Freddy Fazbear's Pizza place. Freddy and his co-workers are animatronic robots who perform all the duties at the pizza place. During the day they are model employees, but during the night they start to act strange!
As a security guard, you must keep watch and survey the CCTV cameras to ensure that the pizza place is kept in working order and safe. This might sound easy, but the bizarre and troubling behavior of the robots might prove difficult to control! You must survive as a security guard for five consecutive nights with a limited amount of resources and power – can you do it? Once you have played this episode, why not check out the second instalment too?
Release Date
August 2014
Developer
Scott Cawthon made this game.
Features
Many areas to monitor with limited visibility
You have limited power
Creepy and dark environment
Five main characters, including Freddy Fazbear
Platforms
Web browser (desktop and mobile)
Android
iOS
Steam
History of the game
The first Five Nights at Freddy's game was released on August 8, 2014, by Scott Cawthon. He got the idea for the game from the feedback he received from his previous game family friendly Chipper & Sons Lumber Co. Reviewers called the game "unintentionally terrifying," and described the young beaver (the main character in the game) as "a scary animatronic animal." Instead of taking offense of the criticism it inspired Scott Cawthon to make an intentionally scary game: Five Nights at Freddy's.
The game was hugely popular, and the indie game became a media franchise. A whole series of the game was created for Microsoft Windows, iOS, and Android. The series is centered on the story of a fictional restaurant named Freddy Fazbear's Pizza.
The first three games involve the player working as a nighttime security guard checking security cameras to survive against animatronic characters.
The fourth game uses different gameplay mechanics and is not located in a pizzeria. Instead, it takes place in the house of a child who must defend itself against nightmarish versions of the animatronics.
The fifth game is located in a maintenance facility owned by a sister company of Freddy Fazbear's Pizza. However, the player character this time is a technician instead of a nightguard.
In the sixth game, the player acts as the owner of a pizzeria and is more similar to previous games. The player must decorate the restaurant with payable items and must also work the night shift.
Because of the popularity of the series the developer started working on different spin-offs. He wrote novel adaptations around the game that were released in 2015, 2017, and 2018. Five Nights at Freddy's: The Silver Eyes, Five Nights at Freddy's: The Twisted Ones, and Five Nights at Freddy's: The Fourth Closet. Currently, there is even a film adaptation in the making.
Controls
Move your mouse to look around
Left click or left/right arrow to navigate the cameras
Rating
9.4 - 14868 ratings
Tags
More Games In This Series
Action Games » Five Nights at Freddy's Games » Five Nights at Freddy's
Related Games
This is a well-designed five nights at freddy's game that you can play here , for free. Five Nights at Freddy's has been played by 2,708,163 people and has been rated 9.4 / 10 by 14,785 people. Scott Cawthon created Five Nights at Freddy's. The game is built with HTML5 to run without trouble in modern browsers. In addition to playing Five Nights at Freddy's in your browser, you can also play it on your Android and iOS devices. If you enjoyed playing this game, make sure to check out our other five nights at freddy's games or FNaF World and Afton's Nightmare.